Timber was born pre-mature and needed around-the-clock care to keep him alive.  Timber is a nice size boy with wonderful balance, attitude and movement. 
3-28-09 Timber goes WD Newnan Kennel Club, Inc. in Newnan, GA under Judge Mr. Robert Shreve for a 3 point Major! to finish his Championship!
 
2-21-09 Timber goes WD Ochlockonee River Kennel Club of Florida, Inc in Tallahassee, FL under Judge Mrs. Donna Buston
Saturday in Orlando. FL, Edelmarke Briarwood Sequoia was WD/BOW for a 4 point Major! Timber was handled by Kay Palade-Peiser and the judge was Mr. Robert Vandiver.

 At the Bayou KC on Friday, 11 month old Timber took WD, BOW & Best Puppy for 2 points under Judge Mrs. Barbara Alderman!
and
on Saturday at the Bayou KCTimber took BOW/BP & BOS over two Specials with pro handlers for 2 more points! Timber also placed 3rd in the Puppy Group! Timber only needs majors to finish!!! All of Timber's wins were owner handled!

Timber's wins from 6 months old to 8 months old
D'arbonne Kennel Club 04/22/2007 Mrs. Nancy Liebes 6 to 9 Dog 1/W/BOW/BB 1 point
Metairie Kennel Club, Inc. 05/18/2007 Miss M. Ann Schwartz 6 to 9 Dog WD 2 points
Ca 05/26/2007 Robert J. Shreve Puppy, 6-9 Mo Dogs 1/W/BW 1 point
Kennel Club Of Texarkana, Inc. 06/17/2007 Mrs. Nancy D. Simmons 6 to 9 Dog WD/BOS 1 point
*Timber is always owner handled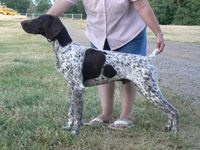 2006/9/29
CD Clear by Parentage, OFA Good DNA Number: AKC DNA #V454360
AKC SN741058/11 OFA Cardiac Normal GSP-CA317/42M/C-PI-E CERF Normal GSP-1248 OFA Hips Good GSP-10606G42M-PI CD Normal Optigen Accession # 04-4245 Thyroid Normal (Private Lab) 2004 GSPCA Nationals AOM

1993/10/24

SN051506/07 01-95 Liver & White Ticked OFA24E AKC DNA #P18494 OFA Exc. #1 GSP 95-97 Sire of the Year Sire of 2005 Westminster KC Best in Show CH Kan-Point's VJK Autumn Roses "Carlee" GSPCA Hall of Fame

BOB NSS 1992 OFA good SE797447 05-89 White & Liver OFA24G OFA Good Top Prod. Show Sire

SF898267 06-93 Liver & White Ticked OFA24E OFA Exc. Top Prod. Show Dam

1993/10/24

SN051506/07 01-95 Liver & White Ticked OFA24E AKC DNA #P18494 OFA Exc. #1 GSP 95-97 Sire of the Year Sire of 2005 Westminster KC Best in Show CH Kan-Point's VJK Autumn Roses "Carlee" GSPCA Hall of Fame

BOB NSS 1992 OFA good SE797447 05-89 White & Liver OFA24G OFA Good Top Prod. Show Sire

SF898267 06-93 Liver & White Ticked OFA24E OFA Exc. Top Prod. Show Dam

2004 GSPCA Nationals Best In Futurity AKC REG. # SR05749105 CERF GSP-1412/2005-24 DNA #V301866 OFA Hips GSP-12216G25F-PI Thyroid Normal - OFA Cardiac GSP-CA617/25F/P-PI Normal, CD clear through parents via Optigen.

OFA# GSP7232G25M Ranked consistently in the the top 20-shown on a limited basis. Multiple Sporting Group Wins

1997 National Specialty Show Best Of Breed/1998 Westminster Best of Breed/2000 GSPCA Obedience Sire of the year.

1996 National Specialty Show Best Of Breed / #1 GSP-1992 & 1993/ 1991 & '92 #1 All Systems/ GSPCA Show Sire of the year 1992 & '93

Sire of 40+ Ch./2 Dual Ch OFA#GSP-2667, GSPCA Hall Of Fame
You are visitor number: 166067